It's easy to assume that a Magaluf stag do is just for those that want to drink day and night (nothing wrong with that!) but there's a whole range of activities to do here.
In this article we list some of the many ideas for your Stag Do, where to try outside of Magaluf and which hotels to book.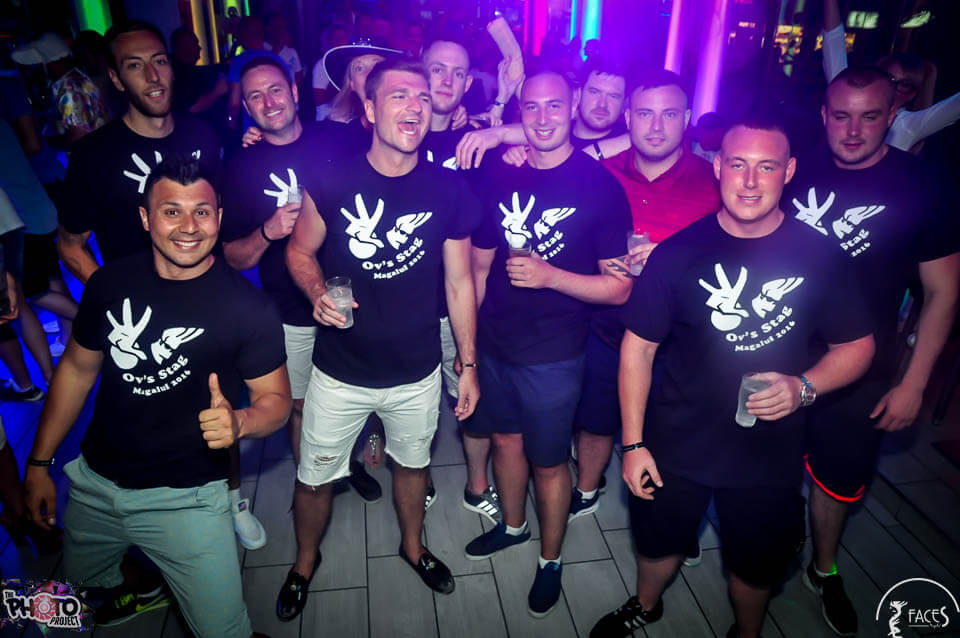 The resort itself is almost purpose built for Stag and Hens with a wide choice of Stag do ideas from Bar crawls, to Water Parks, Booze Cruises, Go Karting, Jet Boats, Golf, Water Sports, Pool Parties, Shows, Nightclubs etc.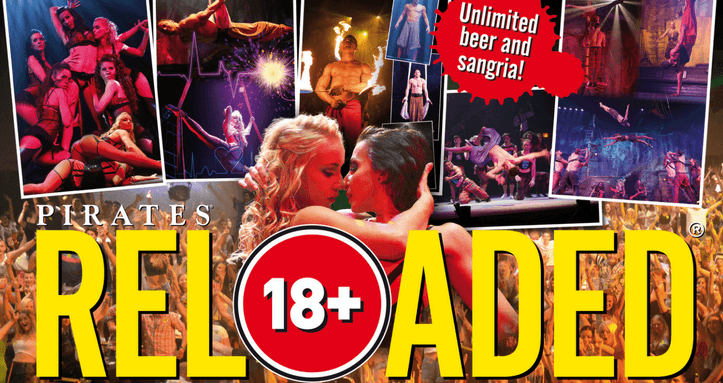 See more about Pirates Reloaded here[/caption]
A real benefit of having your Stag Do in Magaluf is that it takes away alot of the hassle you find when staying in the UK. There is no issue here with big groups of lads, the more the merrier! Fancy dress is almost expected and there are no occasions we can think of that a Stag has been refused entry because of what he's wearing! – We will say however that you must respect the local residents and you don't want to fall on the wrong side of the Policia Local. Nudity is seriously frowned upon and can result in hefty fines. Enjoy yourselves, just don't be an ass!
Within Magaluf itself we offer a whole range of packages which include Jet boat excursions, Pirates Show, Live Strip Stage Show and Dwarf Strippers – see more here.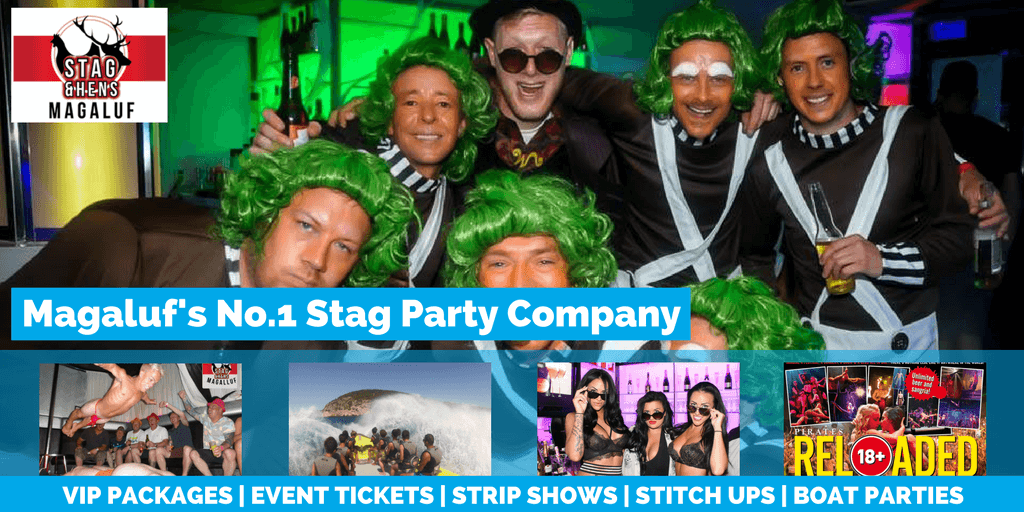 BARS AND BOOZE
Of course if you are just looking forward to a weekend of bars, beer and more bars on your Magaluf Stag Do, then you will not be disappointed! You can walk across the full resort in 10 minutes which means everywhere is easy walking distance or just a €6 taxi journey. The Magaluf Strip is lined with bars, one after the next offering great deals to big groups – so get a deal before you walk in! The bars here are open from 11am-4am and the Nightclubs and Strip Clubs open 10pm-6am.
A day time session is part and parcel for any Stag Do and Magaluf Bars will not disappoint! Many have great deals on during the day and the average price of a pint of lager will cost you just €2.50 (approx £2.20). Day or night a standard price is 2 bottles for €6 or a pint of spirit mixer for €5-€6.
MAGALUF BEACH FRONT
Magaluf Beach has taken on a huge transformation in recent years and is now lined with a whole range of nice restaurants with something to suit all tastes and budgets. The beach runs parallel to the strip so you're never far from one or the other!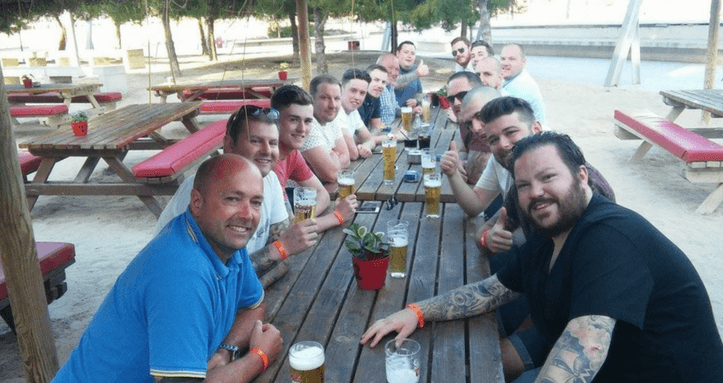 AWAY FROM MAGALUF
Magaluf is perfectly located to give you easy access to a range of various venues and locations. If you are looking to get out of Magaluf then the amazing city of Palma is just 15 minutes away in a cab (cost around €20-€25). Or you could go visit more afluent areas such as the high end Port Adriano, home of the island's Super Yachts. Port Adriano is just 10 minutes from Magaluf around €15 by taxi. Not a place for your more rowdy groups of lads, this is a place for those more into yacht life, posh restaurants and fine cuisine.
In the opposite direction you find Puerto Portals, again an afluent area not suited to the rowdy groups. A great place to go for nice restaurants like the famous Wellies which is now reopened and up market bars such as Key West and Ritzy.
GOLF
Within 10 minutes of Magaluf you can find a number of great golf courses including Real Golf Bendinat, Poniente and Santa Ponsa, travel a little further and you have enough courses to keep you going for a fortnight!
We're not encouraging you to leave Magaluf, simply opening up the resort to those that might not have otherwise considered it. With new 4 and 5 star hotels opening and the likes of Nikki Beach taking up pride of place on the beach front Magaluf is now offering a genuine alternative for the 'Marbella crowd.'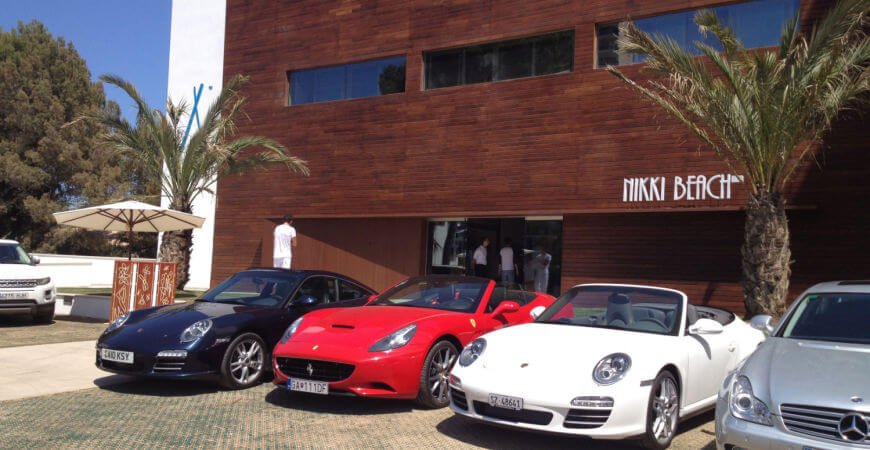 BOOKING HOTELS
When it comes to booking hotels, you just need to think about the group you're travelling with really. If you have a large group of lads and top of the list is to drink day and night then we'd suggest not looking at the likes of the ME Mallorca hotel or The Antillas/Barbados. If however you are in a smaller group and afternoons at Nikki Beach are more your style then these are the hotels for you.
For the bigger groups of lads who are more about the drinking and partying then there are no shortage of hotels, places like The Sotavento, Vista Sol, The Samos, The Inn, TRH, Honolulu, BH hotel and The Martinique are all very much Stag friendly. The Sotavento is Adults only and has been voted no.1 on Tripadvisor for the last 4 years.
If you want to be central Magaluf but happy to spend a bit more on your accommodation then look at The Sol Wavehouse or Sol House (formerly Sol Trinidad).
I guess you wouldn't expect us to say otherwise but if you're not sure about Magaluf for your Stag Do then all we can say is GO FOR IT!  We genuinely believe this resort caters for everyone and the thousands of happy Stags that come and go every year are testament to that.
If you're still considering having your Stag Do in the UK then we think you need to read this article!:
Why you should NEVER have your Stag Do in the UK over Magaluf!
SEE OUR STAG DO PACKAGES HERE