Ok ladies so in order to make your life a little less stressful when organising the Hen Party, below we have put together the ultimate Hen Party Guide for Magaluf 2023. We have covered all of the following for you:
The time has come, to get planning – The Hen Party!!
Summer 2020 will be here before you know it and there's no better time to get those plans rolling, after all, the girls only have a few months to decide what to pack!
Last year was another bumper season for Stag and Hens and with the ongoing investment in resort Magaluf is now turning the heads of Hens from all over the UK and beyond including those that would never dream of anywhere but Marbella.


Magaluf is finally making the news for all the right reasons and we are certainly seeing some great improvements in resort with hotels and venues improving and refurbishing all the time.
The stunning beach and mediterranean sea have always been a huge attraction to the party loving Brits and with the now fully developed beach front lined with cool restaurants, pool party venues and fine dining Magaluf is now fully established as the Hen Party destination of choice.
For those of you poor maids of honour/chief bridesmaids out there with the unfortunate task of trying to organise the excited group of Hens (and keep a grip of the whatsapp group!) there is no better time to get planning the activities and surprises for your Bride to be.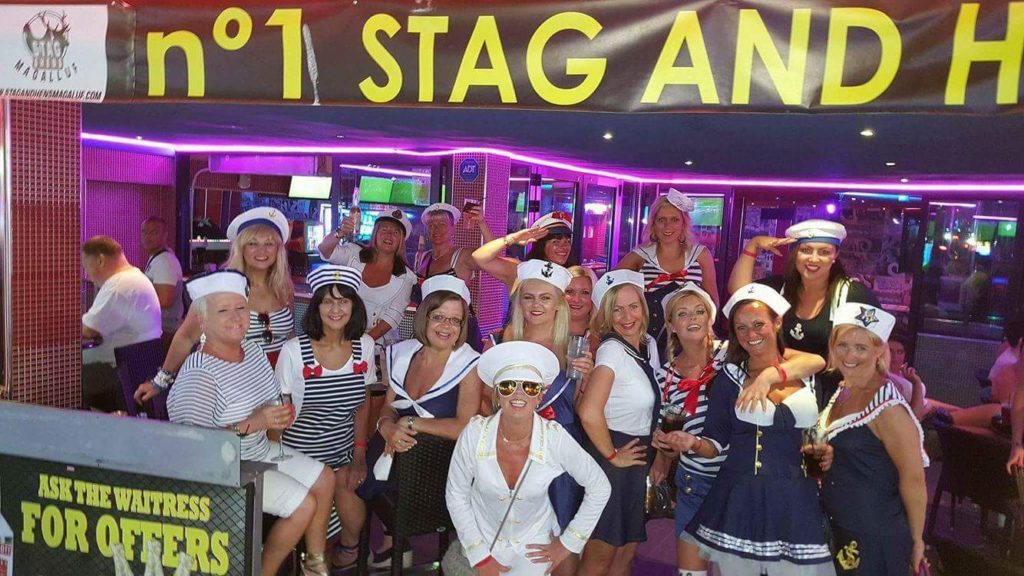 Here we have listed a few things to try and make your life easier when planning that Magaluf Hen Party.
Stag and Hen season kicks off early in Mallorca with groups arriving as early as March. By April /May, the weekends in resort are in full swing and every bar and restaurant is adorned with blow up toys and bridal veils!
March is very early in the season, not all bars and clubs will be open but there will be enough venues for your girls to still have a great time.
The benefits of early season mean there are better deals to be had as hotels look to take advantage of the weekenders before those package holidays flood in for peak season.
If you want to save further you will find coming out for week days will be cheaper than weekends, just be aware that weekends will be busier.
April-May is usually peak time for Hen parties with the May day bank holiday often the busiest of the year.
July and August are peak season so you will pay a premium that time of year but you have a better chance of guaranteeing the good weather. Please note though that Magaluf attracts a much younger crowd during these months with low season seeing a much wider age range filling the bars and clubs.
September is also a fantastic time of year for Stag and Hen parties as the weather is still great and there's some very good deals around.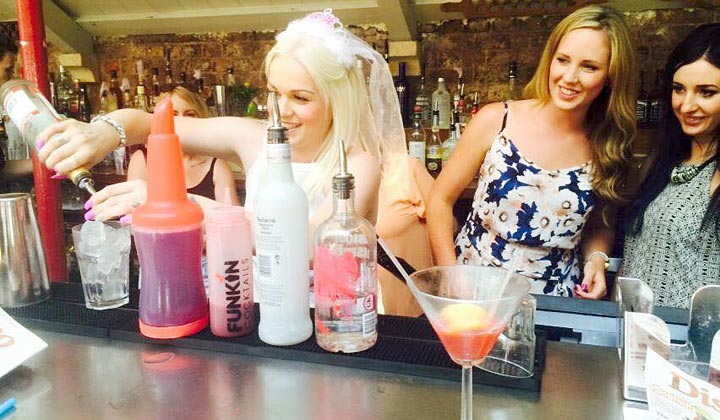 What to do when you're here:
Some groups like to leave everything to chance and find their own way around resort which is fine – but if like most Hen Parties you want to have at least a couple of activities booked before you fly then we have some great ideas for you.
As the majority of Hen and Stag groups have 7 or more in the group things get get booked up pretty quick so we strongly recommend booking early. The girls will appreciate knowing in advance some of the plans and the bride will be happy you went to the effort of booking her something special on her last weekend of freedom!

There's nothing worse than walking into a bar and seeing another group of Hens with their sectioned off area, decorated and drinks package waiting while your group are squashed at the bar trying to get served.

If you let us know what you're interested in we can get back to you with what we think will be the best options for your group and we will also advise on the best days to hit certain venues and events – and as always, get you the best deals!
So what exactly are your options when looking for things to do for Hen parties in Magaluf? Below we have broken down some of our favourite ideas, venues and events.
Magaluf Nightlife things To Do:
VIP Tables/areas
Give your Hen the VIP treatment with a pre booked area and drinks package. Nothing better than walking into your first bar to find a reserved area just for your group with balloons and decor and drinks sat waiting for you.
We have some fantastic drinks deals available with these packages
Male Stripper
Would it be a Hen Party without a male stripper??
This is one of our most popular events including an exclusive drinks package before your Hens are taken into a VIP room with a show just for your group.
VIP Karaoke
Who doesn't love a good (or very bad!) sing song??? We have teamed up with the best karaoke bar in town to offer you this VIP karaoke spectacular! Walk in to find a reserved area just for your Hens, drinks package set up and waiting with free drinks and bubbly for the Hen.
Cocktail Making Class
One of our biggest sellers, the cocktail making class is a great way to start your evening. We provide you with your very own (topless!) waiter who will show you how to make a variety of cocktails that you will have fun making and then drinking!
Dinner at Plaza Emporiyum
One of our favourite restaurants in Magaluf, located right behind BCM this brand new venue hosts a stunning food court with a whole range of choices. Meaning it's easy to keep everyone in the group happy and still sit together. Great food and more than happy to cater for large groups.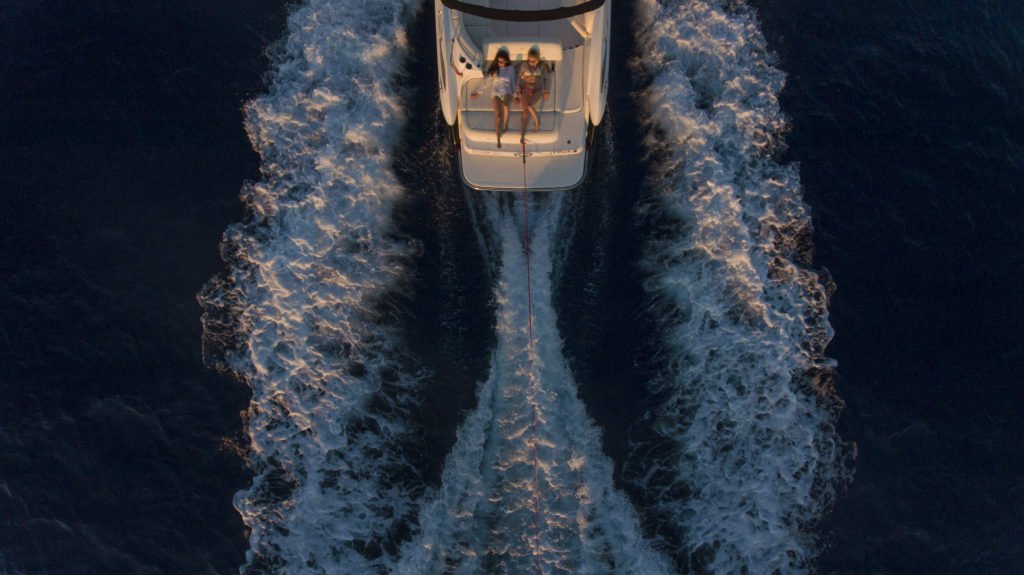 Magaluf Daytime things to do:
Oceans Pool Party
With the explosion of Social Media it's almost the law now that every Hen do MUST have the boomerang shot at a luxurious looking Pool Party venue on the beachfront (you know the one girls, the cheers with a cocktail and pool in the background) – we have just the place! Oceans Beach is a must for Hen parties and we have all the best packages available and can tell you the best days and times for you to go. Great music, VIP beds in the sunshine while looking out across Magaluf Beach – heaven!
Booze Cruise
For the young at heart your Hen Party could join one of Magaluf's infamous Booze Cruises. 3 hours on the open seas with 250 party people going wild with live DJs and all the alcohol you can handle!
Bladerunner
For those adrenaline lovers out there how about a 2 hour Jet Boat ride up and down the stunning Mallorcan Coastline? Includes all your drinks, Snorkelling, Swim Stops, Stand Up Paddle Boarding and Underwater Sea scooters.
Pamper the Hen
Take the stress out of getting ready for the special lady, book her in for a pamper session which can include hair styling, put ups, full makeup and a range of other beauty treatments.
El Blade
A new addition last year, El Blade is a stunning little charter boat for those looking for a day of cruising on the med whilst sipping champagne. The excursion is the perfect mix of adrenaline and luxury as it comes complete with towable toys and snorkelling equipment which are all optional but included in the price.
Pole Dancing Lessons
Why not try something completely different while on holiday – have a professional Pole Dancer teach you all the tricks of the trade in a real Magaluf Strip Club – don't worry the club's not open and you'll be the only ones in there! 🙂
BH Hotel
BH is home to weekly pool parties with celebrity guests and also hosts a number of outdoor gigs and concerts throughout the season, look at for the big names that will be performing live during peak months.
Western Water Park
Just a 15 minute walk or 5 minute taxi from most hotels you will find Magaluf's very own water park with all the thrills, slides and pool fun you would expect for those wanting a break from drinking (at least for a few hours!)
Crazy Golf
Palmanova and Magaluf both have their own giant crazy golf courses, the perfect way to pass an hour and get a bit of competition going in the group.
Check out Golf Fantasia in Palmanova and Kathmandu's Crazy golf in Magaluf (behind the House of Kathmandu).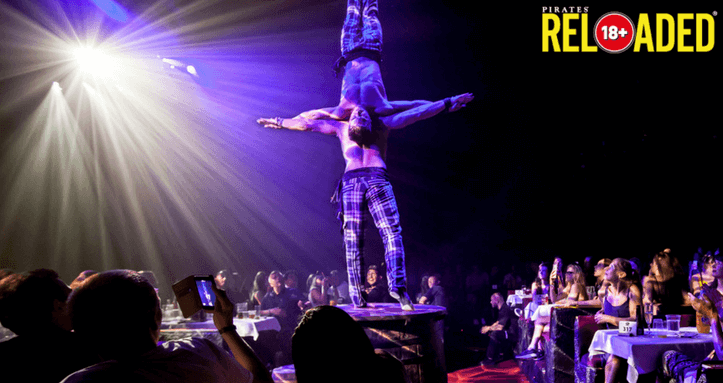 Evening Shows in Magaluf:
Pirates Reloaded
One of the Island's biggest attractions, Pirates Reloaded has been pulling in the crowds for over 25 years and is an absolute must see! A night of amazing acrobatics, belly laughs and all you can drink, this is the night you'll be talking about when you get home!
Gringos Bingo
With Bongo Bingo taking off all across the UK it was only a matter of time before Mallorca got it's own version. This is a night full of laughs, dancing, cheesy music, a non stop party from start to finish – and of course – BINGO!
Check out all our Hen Party ideas here: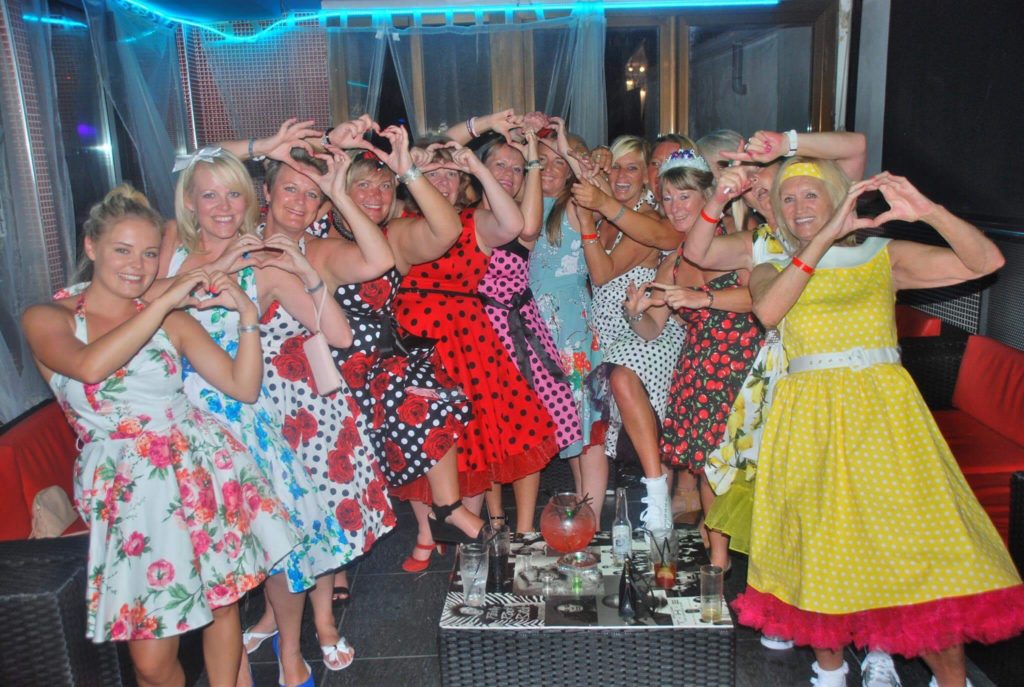 The Best Bars in Magaluf for Hen Parties:
In Magaluf the bars are open from 11am and close at 4am. At midnight by law all the windows and doors must be closed with no music on the terrace's but don't worry the party continues inside until the early hours.
Eastenders Bar
A favourite with Stag and Hens for over 25 years whether you're wanting to meet up to start your night, watch the football, sing karaoke or cure your hangover with their famous breakfast Eastenders will become your local pub in Mallorca.
Wyld
One of the biggest and best party bars on the Strip Magalluf Rocks is a must for Stag and Hens. Some great deals available and amazing atmosphere from start to finish.
Varda
Faces adds a bit of glam to the top end of the strip and is the perfect location before you hit the clubs. The bar is basically one big dance floor and they have a great VIP area which is available to reserve for your Hen Party.
The Square
Finally reopened in 2018 the famous Square (previously BCM Square) is now back to it's glorious best. With a great selection of bars, the biggest outdoor terrace surrounded by giant screens, live music and the rodeo bull it's the perfect place to start your night.
Peaky Blinders
Peaky Blinders is the perfect replacement for the old Bobby's Tavern, the biggest bar in Magaluf boasts the widest selection of Gins and has fantastic live music 7 nights a week.
Stereo Bar
Right at the start of the strip, always busy with a great atmosphere Stereo is one of the resorts most popular bars. Also with the VIP terrace at their sister bar Stereo Temple they offer something for everyone.
Alex's
Alex's have grown in recent years and they now offer 5 different venues all with their own vibe and type of music. Alex RnB, Alex Indie Bar, Alex's lounge, Alex Party and Alex's Sports Bar. You're sure to be in Alex's at some point of your visit!
Other bars to check out on the Strip include Tiger Tiger, Crystal's Bar, The Red Lion, Mambos, Chaplins Bar, Lennon's and Mulligans.
Magaluf Nightclubs
Nightclubs in Magaluf are open from 11pm- 6am so for those ready continue partying after the bars close you won't be short of choice.
Please note the majority of clubs don't open fully until early June for the younger clubbers and when the resort hits peak season. But don't worry if you're heading over low season we are sure the bars opening until 4am will prove enough to keep the group happy!
BCM is one of the best known clubs in Europe for the young or young at heart. If you want to go then we recommend checking it out when they have the big names and acts on to ensure a full house for the best atmosphere.
On the strip you find the rest of Magaluf's night clubs which form the MCP (Magalluf Club Pass) group and include Boomerang Night Club, Bananas, Tokio Joes and Car Wash.
If you're looking for a good feed and a get together for the whole group then we always suggest heading straight to the beach front!
From one end to the other Magaluf beach is lined with a whole range of restaurants all offering something different. Our favourites for Hen Parties include Pirates Beach Bar and Grill, Bondi Restaurant, Foxy's and Robinson Crusoes. If you're wanting some good old fashioned English pub grub then you can't beat Eastenders just off the main strip.
Plaza Emporiyum is a perfect option for large groups with 8 different food choices under one roof and great outdoor seating area.
The airport for Magaluf is Palma Airport which is one of Europe's largest and busiest. If you are looking for the quickest way to resort then simply head outside and jump in a taxi queue, you are never waiting more than 5 minutes and the taxi from Palma Airport to Magaluf takes less than 30 mins.
If you want to keep the group together then we recommend booking a private transfer, this can range from a small minibus up to a large 50 seater coach.
We now offer our own transfer services and in Stag and Hens style we offer a few little extras to delight the bride to be as soon as she steps foot outside the airport.
A cheaper option can be booking a shared transfer but we don't recommend it as you will likely to be sharing with families which isn't ideal and if you are the last drop you may have to go via 4 or 5 other hotels before arriving at yours, often taking up to an extra hour by the time everyone has got on the bus and been dropped off.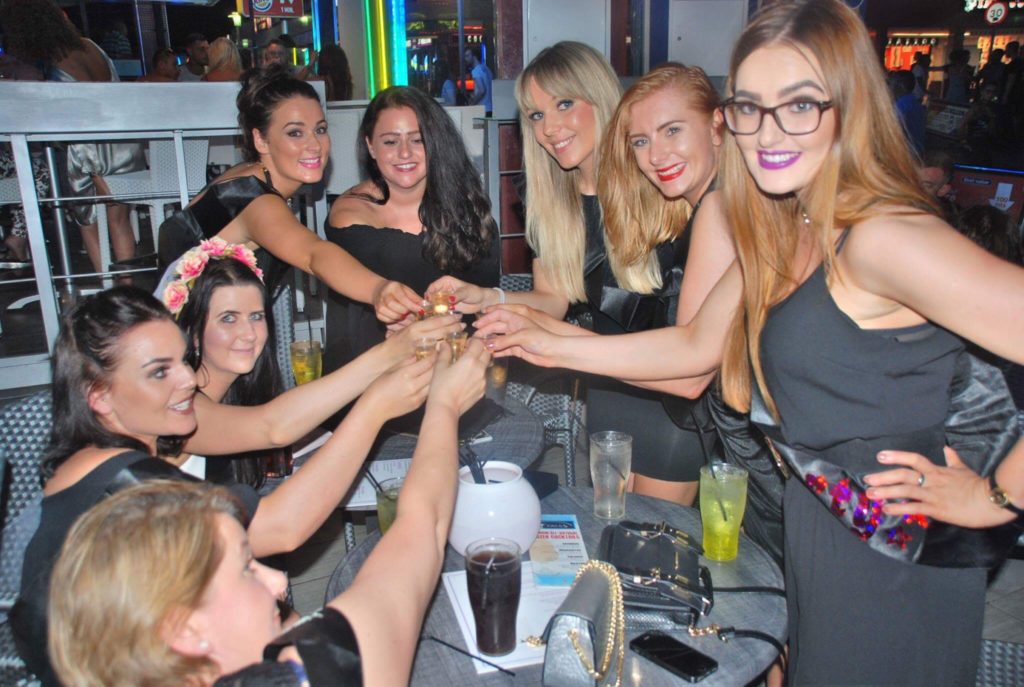 How to book Events and tickets:
Well that's easy, you simply contact us here at Stag and Hens Magaluf and we will do the work for you. We have direct relationships with all the venue owners and management and through our friendships and working relationships have managed to get the best deals and prices of any other booking agency in resort.
To book your events we only require a small deposit and the remainder doesn't need to be paid until you arrive on the island.
Is it cheaper to book direct?
No. you won't find any of our deals or prices cheaper by going direct to the owners as they all offer us their best deals and we are constantly pushing to guarantee you the best offers in town. By booking direct you are likely to be speaking with a range of different venues, contacts, numbers and emails which can be very frustrating as you wait to hear about availability and then try and make everything fit together. By booking with us we take out all the stress and can offer a non bias opinion of the best days/ nights to do your chosen events. Many venues are likely to push their quieter days on you but we are here to tell you the best days to go where and what and when to avoid while here!
Our reps have been living and working in Magaluf for over 19 years so please feel free to reach out with any questions you may have.
If you're not sure where to start then why not take 2 minutes to complete our 'Inspire Us' form so you can tell us a bit about the group, we then look at your interests, how many of you there are and when you're here, and we will get back to you with a bespoke package just for your group.

Whether you end up booking through Stag and Hens Magauf or not we are sure you will all have a fantastic time and can assure you that booking Magaluf for your Hen Party or Stag Do will be a decision the whole group will thank you for!
Check out all our Hen Party ideas here: