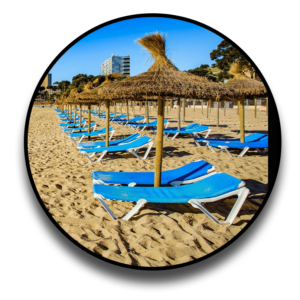 The Ultimate Stag Do and Hen Party Location.
See below for answers to some of our Frequently Asked Questions, including: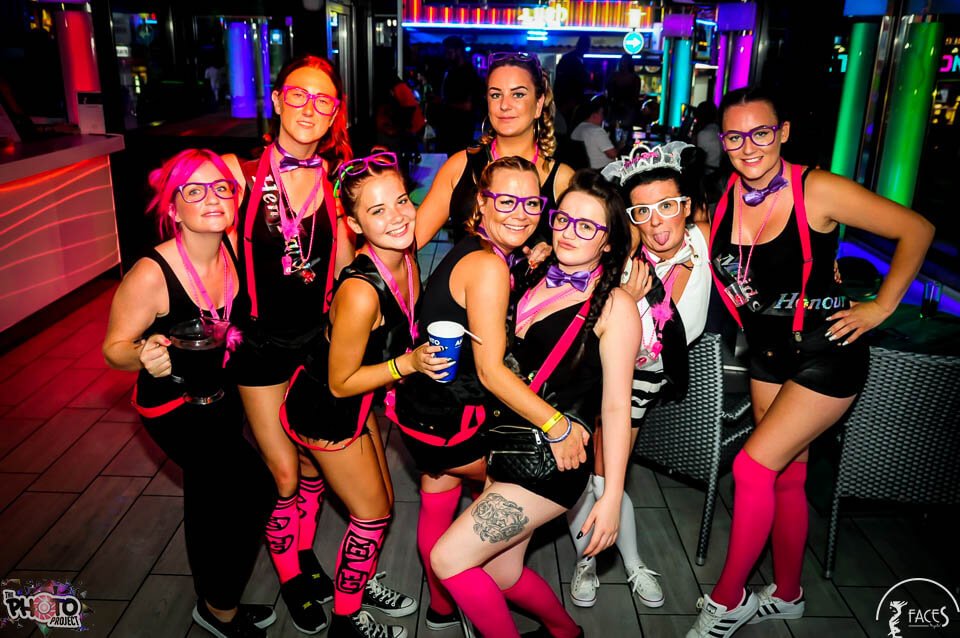 Things to do in Magaluf for Stag and Hen Parties....
You can head down to Magaluf Beach, like many before you, you'll be surprised how stunning it is! Bars and restaurants line the promenade of the beach, great places to eat, drink and catch some rays!
If the beach front isn't for you then don't worry as the bars on the Magaluf Strip are open from 11am every day!
If you're looking for some things to do in Magaluf away from the bars then we have plenty to offer, from the amazing Bladerunner, Booze Cruise, Salon Pamper session, Pole Dancing Lessons, Water Sports, Adventure Rooms, Go Karting and many more!
Don your Magaluf Hen Party T-Shirts and hit the strip!
Although it's hard to beat an afternoon in the sun, enjoying the amazing Magaluf weather, the place really comes alive at night!! You will have no shortage of bars and clubs to choose from as you head to the famous Magaluf Strip. Give your Stag or Hen the best start to their night by booking a Strip Show package that will give all of you a great laugh! Or an alternative option is to book our Dwarf Stripper and just watch what he does with your Stag or Hen!
We also offer great VIP packages, Cocktail making classes, Show tickets, karaoke nights, something for all!
We have the best Hen Party  deals with the best bars on the strip and we can tailor-make a hen or stag do package just right for your group!
If you don't see what you're looking for on these pages or need some hen party ideas or Stag Do activities then just get in touch with us and let us see how we can help you. With over 20 years experience in resort we guarantee to come up with something to suit everyone!
Here we answer some of your Frequently Asked Questions:
Magaluf is located on the South West Coast of Mallorca, one of the Balearic Islands in Spain.
The only one there is – Palma de Mallorca Airport! (PMI)
We get asked many times for info on Magaluf airport – there isn't one 🙂  
How far is the airport from Magaluf
Palma airport is just 25 minutes from the resort of Magaluf by taxi.
You have a number of options, the easiest of which is by taxi. There are a constant stream of taxis lined up right outside the arrivals door waiting to take you straight to Magaluf.  A taxi to Magaluf will cost you between €45-€50 (around £40).
By bus – if you're on a budget you can always travel by bus, however you wont be very popular with the Stags or Hens when they find out you need to get a bus to Palma first and then another one into Magaluf!  We highly recommend spending a few euros extra and getting to resort in the quickest way possible!
Transfers –  There are a whole range of transfer companies that you can book online, prices will vary depending on the form of transport, if you want to share and how many in your group.  Try www.hoppa.com for transfer deals.
Car Hire –  Of course you can hire a car direct from the aiport but does anyone acutally drive on a Stag or Hen party??  Again we don't recommend this as you will not need the car in resort as everything is so close to each other.  However if you really do want to hire a car then use a comparison site such as www.travelsupermarket.com to find what deals are around or www.doyouspain.com has some great deals in low season (just beware of high deposits on arrival!) but really, for what it costs – take a taxi!
How much is a taxi from Palma airport to Magaluf?
A taxi from Palma airport to Magaluf will cost you around 45-50€ (approx £40) one way.
What currency do they use in Magaluf?
The Euro € is the currency In Magaluf and the whole of Spain.
Where are the best restaurants in Magaluf?
This one is easy – just head to the beach! If you're looking for a nice meal with amazing views then Magaluf beach is the place to go!
From one end to the other the beach front is now lined with restaurants with a variety to suit all tastes and budgets.
What are the best bars in Magaluf?
Just head for the Strip! There are many bars dotted around resort which are great places to start and meet up with the rest of the group, but once you're all together just head to the Magaluf Strip!  One after the other it's literally the golden mile of bars and clubs.  Playing every type of music, you can literally walk from one straight into the next until you find your favourites.  Little tip for you – deal with the PRs! We know they can be annoying but your group of 12 people plus is big business to the bars and the PRs will know they are allowed to make special deals for you and your group.  

What's the best time of year for a Stag or Hen Party in Magaluf?
The Magaluf season runs from April through to October with the 'peak season' being July/ August.  For Stag and Hens though the busiest times are April, May and September.  The lower season months always prove to be more popular with Stag and Hens as it's often when you can get good deals on flights and hotels.  Also hotels are much more open to a short 3 night stay then they are in July and August which is when they prefer the one and 2 week bookings to fill their rooms.
Of course plenty of Stag and Hens still come right throughout the year including July and August because some groups prefer to see the resort full and the guaranteed hot weather.
We recommend the quieter months though as the peak season tends to see a much younger crowd hit the resort for their summer holidays so the streets are lined with 18 and 19 year olds mid season.   August isn't a great month for Stag and Hens as it's usually the most expensive time to be here and the resort has a much more international influx of tourists.  Many Italians and French fill the hotels at this time of year.  Of course we have nothing against the French or Italians but many Stag and Hens are looking to mix with those on similar weekends to themselves.  It also means the clubs and bars start to cater for the international market and BCM for example will have a line up of Italian DJs performing throughout August.
Some Stag and Hens take advantage of the bargain deals available in the winter and you can drive up the empty strip to suddenly see 20 lads in matching shirts wandering around looking for a bar!  We hope that the season becomes extended again like the old days but at the moment we wouldn't recommend coming here between November and March.  That is of course unless you are just looking for a cheap break and not worried about the fact that only 2-4 bars are open in the whole resort.
We actually love the winters here and we're sure that the season will slowly start to extend again but at the moment we don't want to encourage you to come here and be disappointed.
For Stag and Hens our peak times are end of April – early June and September.
One thing is for sure though, if you're with the right group then you'll have a great time here no matter what time of year!
What are the best hotels in Magaluf for Stag and Hens?
Although the resort is undergoing a major facelift at the moment there are still plenty of hotels that welcome large groups.
One of the great things about Magaluf is how the resort is so close together so no matter which hotel you book you are never more than 10 minutes walk or 2 minutes in taxi from the main strip, the beach, the clubs, the restaurants, the waterparks, the shows etc. Many hotels are literally 2 minutes from the main Magaluf Strip.
When it comes to choosing a hotel, you just need to think about the group you're travelling with really. If you have a large group of lads and girls and top of the list is to drink day and night then we'd suggest not looking at the likes of the ME Mallorca hotel or The Antillas/Barbados. If however you are in a smaller group and afternoons at Nikki Beach are more your style then these are the hotels for you.
For the bigger groups who are more about the drinking and partying scene then there are no shortage of hotels, places like The Sotavento, Vista Sol, The Samos, The Inn, TRH, Honolulu, BH hotel and The Martinique are all very much Stag and Hen friendly. The Sotavento is Adults only and has been voted no.1 on Tripadvisor for the last 4 years.
If you want to be central Magaluf but happy to spend a bit more on your accommodation then look at The Sol Wavehouse or Sol House (formerly Sol Trinidad).
Ask us about anything that you don't see here